Introducing BIG LEDUP, the largest portable lighting box on the market. With a height of up to three meters and a width of five meters, it offers endless application and design possibilities using just a few basic elements. Transporting and setting it up is a breeze, as it conveniently fits in any car and requires no tools.
BIG LEDUP features high-end aluminum components that easily assemble without tools. Its elegant, illuminated frame is created with color-coded guides for a stable structure. Use it as a freestanding LED lightbox for advertising, a backdrop, room divider, or display for various events and promotions.
Experience the versatility of BIG LEDUP with its modular system. Combine multiple units to create custom wall lengths or shapes, inspiring limitless possibilities. Extension sets in different widths further enhance your options, maximizing adaptability.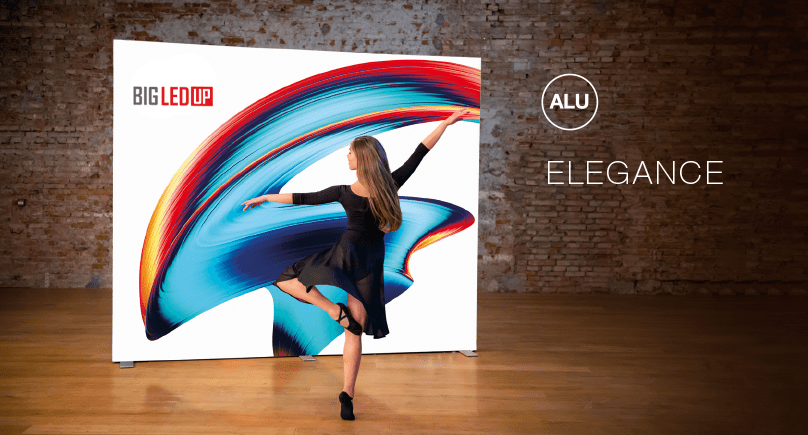 With advanced static design and innovative Osram LED technology, BIG LEDUP delivers solid stability and wide-spectrum illumination. The lens technology ensures even and shadow-less lighting throughout the area, creating an impressive visual impact.
Assembling BIG LEDUP is quick and easy. The tool-free process involves snapping the components together, screwing on the bases, and you're ready to go. The user-friendly Silicone Edge Graphic profiles unfold easily, are interchangeable, and effortlessly display your message.
Transportation is hassle-free with the compact ABS cases. BIG LEDUP can be packed into a 1.2-meter length, fitting in any car. Multiple systems can be efficiently shipped on Euro pallets. Weighing only 28kg, it is lightweight and the wheeled cases with handles make transportation convenient.