Introducing LEDUP: a revolutionary display system featuring high-quality OSRAM LED technology. Experience superb quality and even illumination with this champion among illuminated displays. Create sophisticated mood elements and focal points effortlessly, even in large spaces. LEDUP's compact design and sophisticated cardboard carrier allow for optimal storage and transport of components and digital prints.
LEDUP is a modular system consisting of single modules in two widths: 85 cm and 100 cm and three heights including the base: 200/202 cm, 230/232 cm  and 245/247 cm.
It offers tool-less assembly for quick and easy setup. The slim profile, made of high-quality anodized aluminum, is UV resistant and timelessly elegant.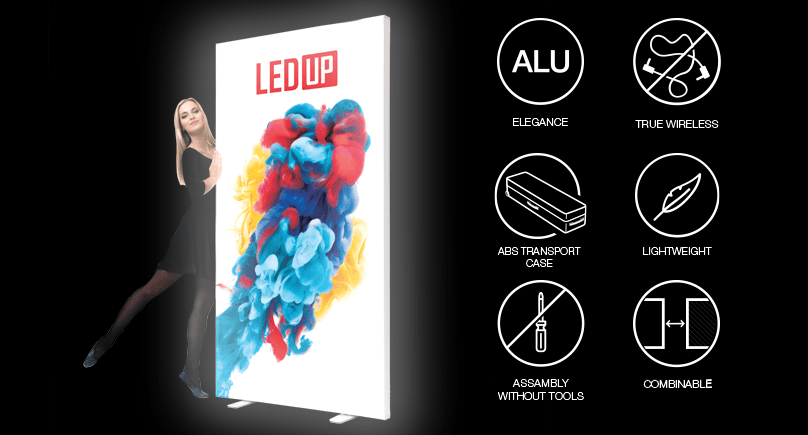 With plug-and-play functionality, frames can be easily assembled and connected. LEDUP is available with award-winning cardboard packaging or a sturdy ABS transport case for frequent use.
Versatile applications include single or double-sided floor displays, room dividers, backdrops, and more. Achieve stunning illumination with the perfect combination of LED and lens technology, eliminating hot spots and shadows.
Choose LEDUP for a captivating display solution that combines superior quality, effortless assembly, and convenient packaging options.