Acrylaat, ook wel plexiglas genoemd, is een paneel dat doorschijnt en  voorzien is van een print op de achterzijde. Acrylaat is makkelijk te monteren aan de wand en muur. 
Geschikt voor binnen- en buitengebruik 
Minder kwetsbaar

doordat er op de achterzijde geprint wordt 
Heeft een luxe uitstraling door beschikbare wandmontage opties.
Acrylaat Paneel
Acrylaat paneel (5 mm) heeft een doorschijnende functie. Het materiaal is een populaire keuze voor unieke prints. De hoogwaardige eigenschappen van dit materiaal en de hoge resolutie print zorgen voor een luxe uitstraling van het eindproduct.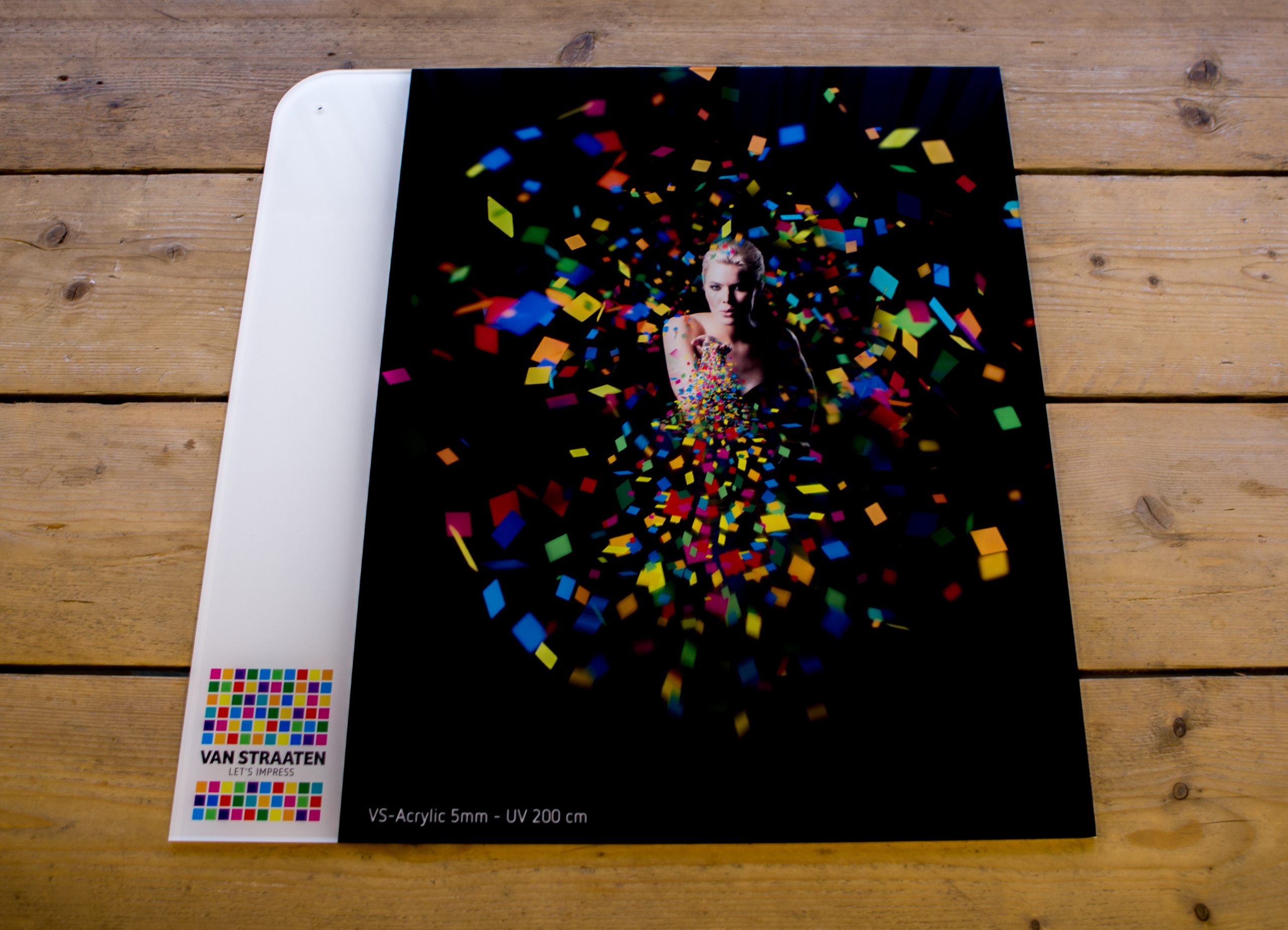 Geschikt voor binnen- en buitengebruik 
Het Acrylaat paneel is geschikt voor zowel binnen- als buitentoepassingen en is te frezen in nagenoeg iedere vorm. Wilt u een luxe visual voor uw event, galerij, musea of showroom? Neem dan contact op met onze sales afdeling. Voor een standaard print op plexiglas kunt u de configurator gebruiken en het product zelf samenstellen naar wens.
Beschermde print op plexiglas 
De plexiglas plaat is standaard leverbaar in een dikte van 5 millimeter. Standaard wordt de print op de achterzijde van de plaat geprint met zicht naar voren. Hierdoor is de print altijd beschermd voor eventuele beschadigingen. Houdt er wel rekening mee dat het materiaal zelf krasgevoelig is!
Maak de boorgaten iets ruimer vanwege de uitzetbaarheid 
Een plexiglas plaat is relatief eenvoudig te monteren door bijvoorbeeld gebruik te maken van boorgaten. Tijdens het monteren adviseren wij om de boorgaten iets ruimer te maken vanwege het hoge uitzettingscoëfficiënt. Dit houdt in dat wisselende temperaturen de plexiglas plaat laten werken (een paar millimeter per meter). Zo heeft het paneel meer ruimte om uit te zetten en wordt het bol staan van de plaat voorkomen..
Walking side by side with our customers along the creative landscape, and going through the creative process together, ultimately results in the most visually engaging brand experiences.
Understanding brands is the most important building block to successful branding. We put great emphasis to color management and details, to ensure messages getting across with great impact.
We are team players. We strongly believe in partnerships, and we see ourselves as an extension of our customers, providing them with ideas, and inspiring them with visual branding solutions.