Geschikt als textieldoek welke niet mag doorschijnen. Dit blockout doek wordt via een 8 kleurige UV print techniek geprint en is in iedere gewenste maat leverbaar.
Geen schaduwvorming in de visual door de zwarte blockout achtergrond
Leverbaar in grote afmetingen ( tot 5m breed )
Vaak gebruikt als getakte wandbespanning
Blockout Textile BlackBack
De Blockout Textile Blackback 320 UV is geschikt om te fungeren als textieldoek welke niet mag doorschijnen. Dit blockout doek wordt altijd enkelzijdig bedrukt en is in iedere gewenste maat leverbaar.
Maximale printbreedte
Voor een XL print raden wij de Blockout Textile Blackback 500 UV aan. Deze print kan maar liefst met een maximale printbreedte van 500 centimeter geproduceerd worden. Maakt u toch de keuze voor Blockout Textile BlackBack 320? Dan, zijn wij genoodzaakt om de doeken op te delen en aan elkaar te bevestigen.
Perfect voor snelle wandbespanningen
Het materiaal wordt vaak gebruikt als beprint wandbespannings materiaal.  Dankzij de lichtblokkerende functie zijn oneffenheden in de achtergrond niet zichtbaar. 
Ook geschikt voor verlichte toepassingen 
Blockout Textile Blackback is ook te gebruiken in aluminium textielframes welke verlicht worden aan een enkele zijde. Hierdoor wordt het licht enkel zichtbaar aan de zijde waar een van onze speciale peesdoeken voor ledframes wordt gebruikt.
Niet opvouwbaar
Onze speciale UV print techniek zorgt voor de mooiste kleuren. Echter, adviseren wij om dit materiaal met print niet op te vouwen. Hierdoor kan de inkt zogenaamde craquelé effecten vertonen waardoor u niet het gewenste resultaat bereikt.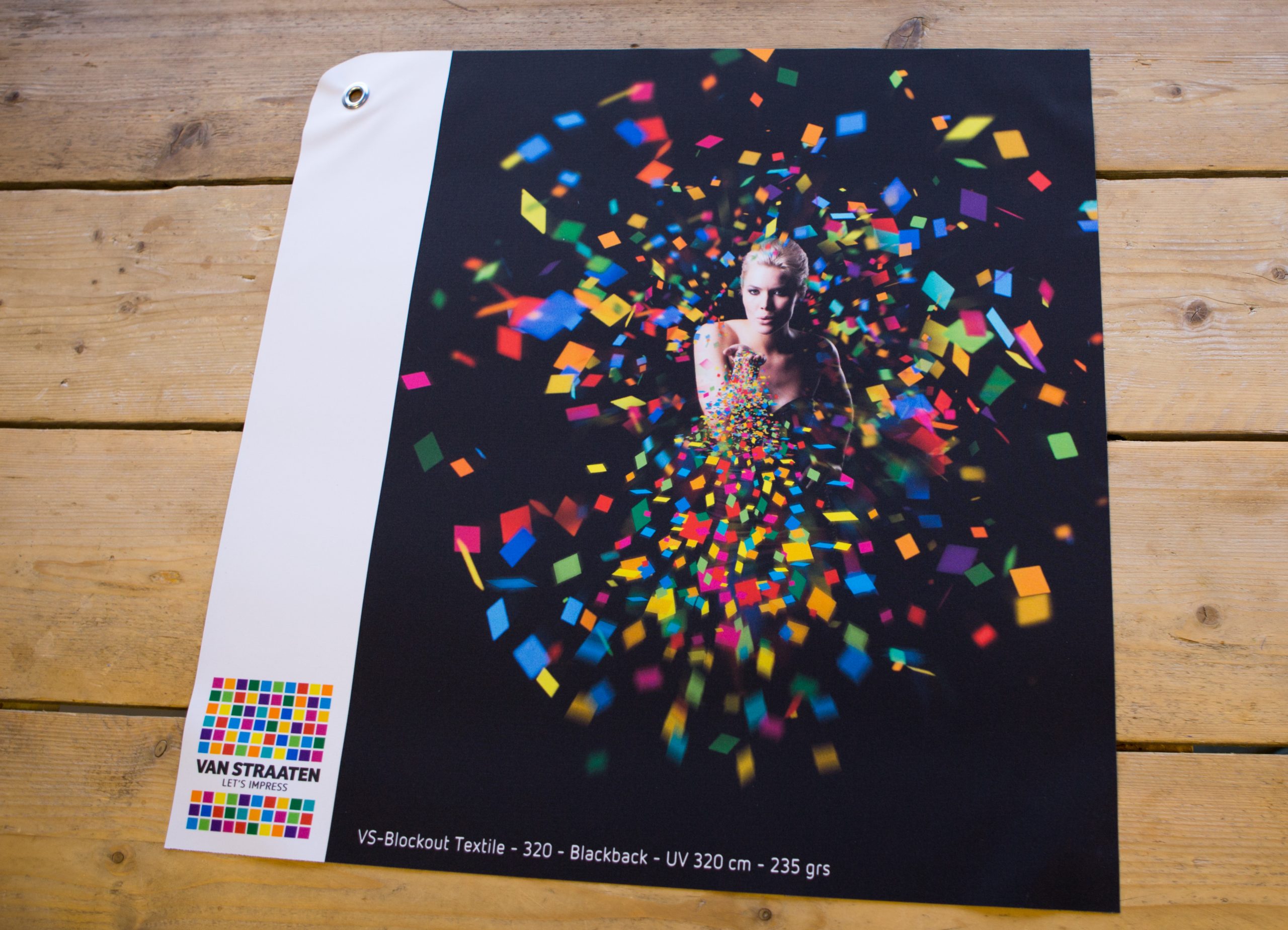 Walking side by side with our customers along the creative landscape, and going through the creative process together, ultimately results in the most visually engaging brand experiences.
Understanding brands is the most important building block to successful branding. We put great emphasis to color management and details, to ensure messages getting across with great impact.
We are team players. We strongly believe in partnerships, and we see ourselves as an extension of our customers, providing them with ideas, and inspiring them with visual branding solutions.