Revolutionize with Multi Frame
Introducing the multi-frame PICUP, a revolutionary display system of superb quality. Effortlessly showcase your product with this versatile solution, suitable for various display needs. It's easy to assemble, lightweight, and offers impressive stability.
The PICUP system consists of single modules in different widths and heights, allowing for flexible configuration. The multi-frame PICUP system is comprised of single modules available in two widths: 85 cm and 100 cm, and three heights: 200/202 cm (including the base), 230/232 cm (including the base), and 245/247 cm (including the base). With tool-less assembly and an easy-to-use silicon lip edging, setting up and changing your display is a breeze.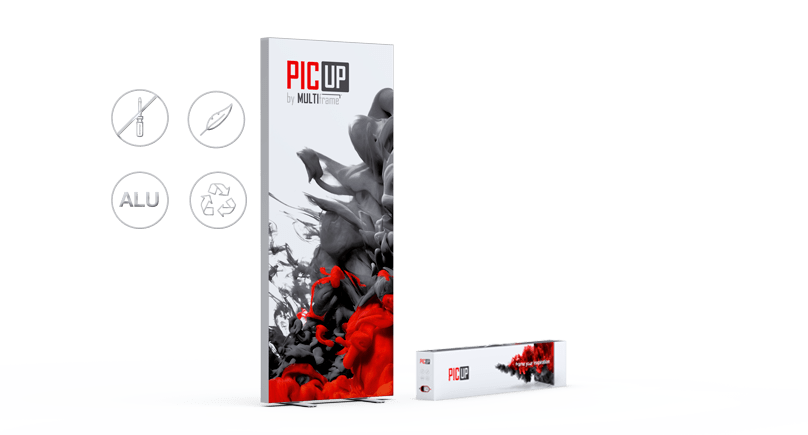 Crafted with high-quality anodized aluminum, the slim profile of PICUP exudes elegance. The connectors are discreet, ensuring a seamless look. Your digital prints will look stunning from every angle.
Despite its quality, PICUP is surprisingly lightweight and comes with eco-friendly reusable packaging. Transport and storage are hassle-free.
Enhance your display with LEDUP, featuring OSRAM LED technology for optimal brightness and even illumination. With quick assembly and impressive visual impact, PICUP and LEDUP are the perfect combination.