Acrylic, also known as plexiglass, is a translucent panel with a print on the backside. Acrylic is easy to mount on walls and surfaces.
Suitable for indoor and outdoor use
Less vulnerable due to printing on the backside
Product has a luxurious appearance due to available wall mounting options
Acrylic Panel
The Acrylic panel (5mm) has a translucent function and is a popular choice for unique prints. The high-quality properties of this material and high-resolution print provide a luxurious appearance of the final product.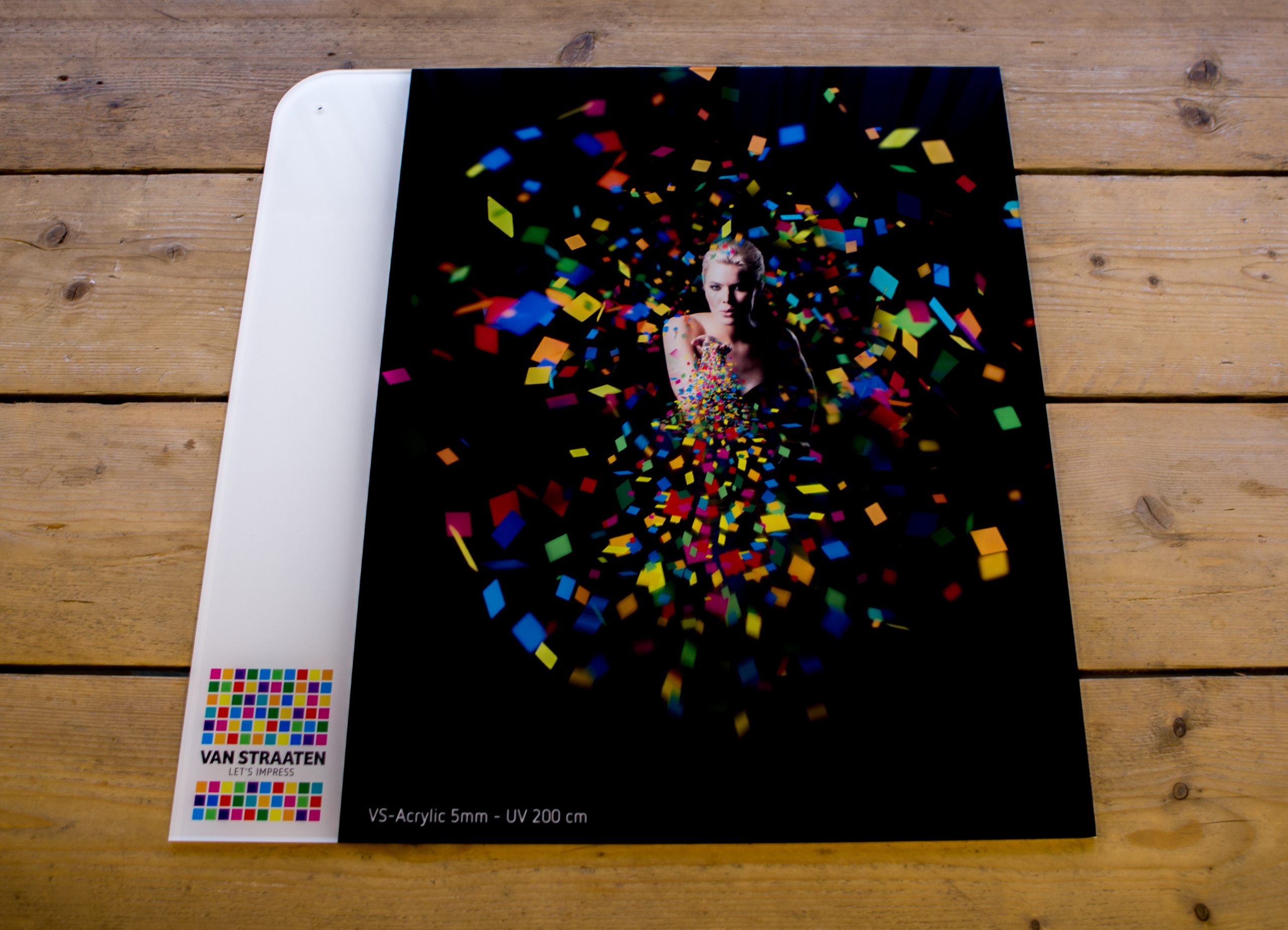 Suitable for indoor and outdoor use
The Acrylic panel is suitable for both indoor and outdoor applications and can be milled into almost any shape. If you want a luxury visual for your event, gallery, museum, or showroom, please contact our sales department. For a standard print on plexiglass, you can use the configurator and customize the product to your liking.
Protected print on plexiglass
The plexiglass plate is standardly available in a thickness of 5 millimeters. The print is printed on the backside of the plate with the front side visible. This ensures that the print is always protected from possible damage. However, keep in mind that the material itself is susceptible to scratches!
Make the drill holes slightly larger due to expansion
A plexiglass plate is relatively easy to mount using drill holes, for example. During mounting, we advise you to make the drill holes slightly larger due to the high coefficient of expansion. This means that changing temperatures cause the plexiglass plate to expand (a few millimeters per meter). This gives the panel more room to expand and prevents the plate from bulging.
Walking side by side with our customers along the creative landscape, and going through the creative process together, ultimately results in the most visually engaging brand experiences.
Understanding brands is the most important building block to successful branding. We put great emphasis to color management and details, to ensure messages getting across with great impact.
We are team players. We strongly believe in partnerships, and we see ourselves as an extension of our customers, providing them with ideas, and inspiring them with visual branding solutions.